The association provides comprehensive services for children with disabilities, including an overall assessment of the child by a multidisciplinary team made up of a special education specialist, physiotherapist, occupational therapist, speech therapist, behavioral therapist, modified sports specialist, and other specialists if necessary. The assessments aim to determine the type and intensity of disability and then provide an early intervention program according to the needs of the child.
The rehabilitation unit at the association provides therapeutic services for children with disabilities through a multidisciplinary team, where they form a single crucible with tasks overlapping in a coherent and integrated way to draw a clear picture of the child's situation and needs. The team then plan together on how to meet these needs and reduce their aggravation and provide children with the utmost degree of self-reliance in their various daily activities. The association provides comprehensive rehabilitation programs for children with disabilities in addition to ongoing training and awareness programs for families.
Physiotherapy
Physiotherapy stimulates the normal development of children in the field of locomotion to improve the performance of physical motor skills. This includes the following stages of normal development:
The motor field (head control, sitting, walking, etc.)
Improve balance
Improve the motor range of the joints
Strengthen the muscles
Improve strength and walking
The physiotherapist also prescribes equipment and assistive devices for children and encourages and trains families to use the equipment.
Therasuit (space suit) is a comprehensive treatment and rehabilitation program commonly used in cases of cerebral palsy, stroke, brain injury, spinal cord, motor, and musculoskeletal diseases. The treatment lasts 3-4 weeks, 3-4 hours per week (5-6) days. Often the child will require several courses that are determined by the condition.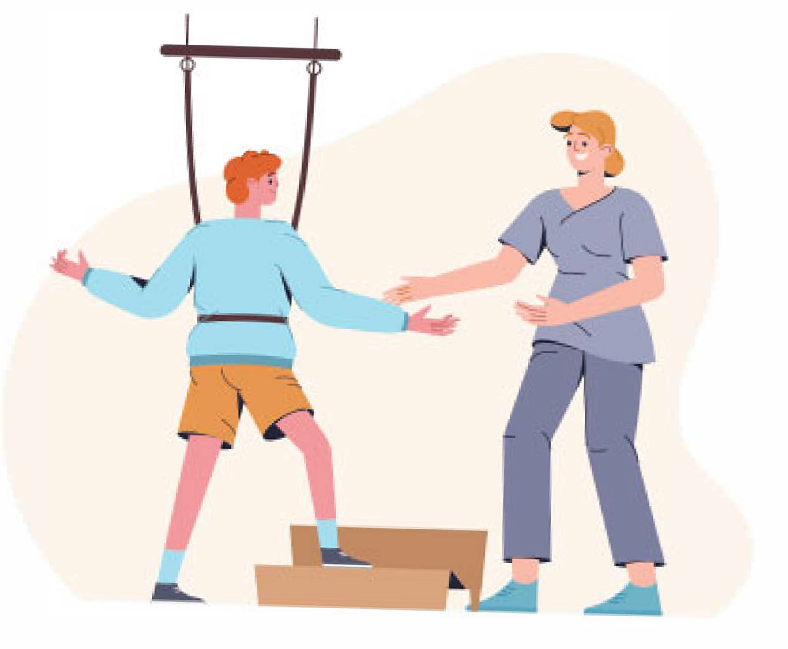 Therasuit
The program contains many therapeutic exercises with equipment and tools for the Therasuit program, such as:
Space suit consisting of a cap and Jacket
Shorts
Special knee facilities
Shoes and additionally rubber ropes installed on the suit by the processor.
This program trains the central nervous system to improve the motor pattern, the integrity of the body, balance, and muscle strength, and relieve involuntary movements.
Occupational Therapy

Occupational therapy improves the child's performance in the following areas:
Self-care

Personal responsibility

Fine motor skills

Motor cognitive skills

Motor kinetic synergy

Writing skills and cognitive skills

Developing visual motor skills

Attention and concentration of different stimuli

Muscle strength and functionality.
Occupational Therapy
Occupational therapy provides tools needed to help adjust the home or school and a means of sitting and mobility as needed to facilitate functional performance. The occupational therapist looks at the child with a holistic view, aiming to restore the child's functional abilities in all aspects.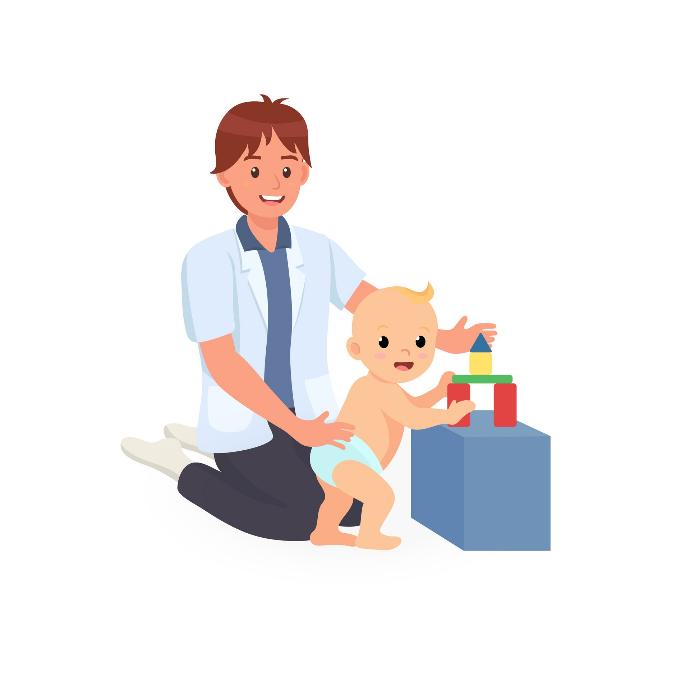 Sensory integration
Sensory processing disorder (also known as sensory integration dysfunction) is a disorder that arises when multiple sensory modalities are not adequately functioning to provide responses that are appropriate to the requirements of the environment. The senses provide information through various means such as vision, hearing, touch, smell, taste, deep sense, and vestibular system, which people need for function. Sensory processing disorder causes significant problems in regulating the senses when information is coming from the body and the environment.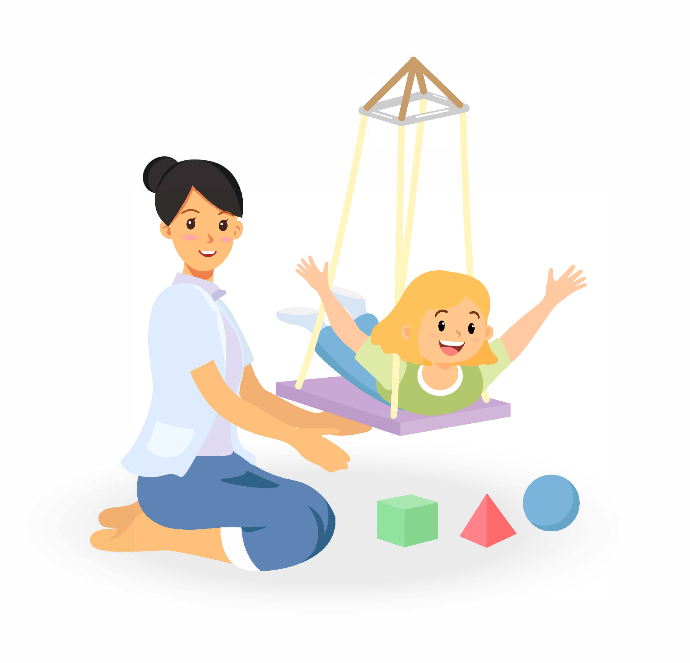 Sensory Integration
The specialist performs sensory integration, which is a neurological process that regulates the sensations coming from their bodies and the environment, allowing them to use their bodies effectively within the setting.
This causes a range of problems for the child as it can affect their ability to process data coming from different senses, such as the feeling of itching when wearing industrial fabrics, and cause many other problems in their daily activities. Coming through the vestibular system, for example, feeling dizzy while riding a car or when receiving a deep sense, such as having trouble holding a pen for writing.
The specialist performs sensory integration, which is a neurological process that regulates the sensations coming from their bodies and the environment, allowing them to use their bodies effectively within the setting.
 It is possible to take advantage of sensory integration programs for children with different sensory disorders as it could be useful in minimizing disorders such as attention deficit hyperactivity disorder (ADHD) and autism.
Speech and Language Therapy
Human communication expresses the ability to form and use language and the ability to speak clearly and comprehensively to others. It also includes the ability to hear, understand, and reciprocate. When communication is interrupted, the results can be harmful, as this is due to language and speech defects.
Often it is due to neurological disorders. Disorders of the central and peripheral nervous system, physiological disorders (swallowing, chewing, nasal twang, cleft palate, respiratory problems, etc.), or developmental problems such as autism, hyperactivity, attention deficit disorders, etc.
Other sensory issues such as loss of hearing loss, visual problems, or psychological problems (selective mutism resulting from psychological problems, like stuttering speech or childish voices). It is concluded that there is a close connection to language in areas of mental, cognitive, sensory, neurological, psychological, and even child-stimulating environments.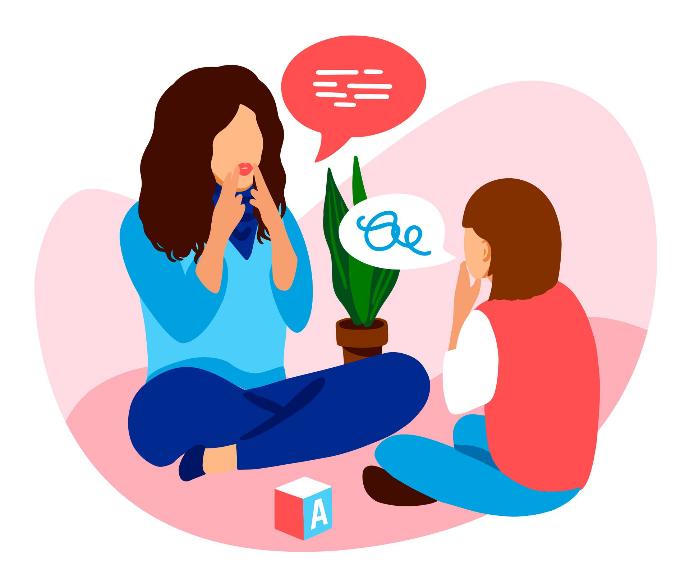 Therapeutic Intervention
Detection

:

Standard measures are used here for a complete diagnosis of the case.

Diagnosis and evaluation

: Individuals who showed symptoms of communication disorders in screening tests, the nature and extent of the disorder, and suggestions on therapeutic steps.

Treatment

: Aims to help the child achieve the closest connection to a normal situation and provide compensatory strategies for untreated obstruction and reduce the determinants and obstacles that prevent effective communication.
Psychological / Behavioral Therapy
Psycho-behavioural therapy helps children with disabilities adapt, grow, and become independent within their environment. It also helps family members understand disabilities and their potential impact, develop coping strategies for problems and stress, and achieve family stability. Through behavioural modification, children can develop mental abilities and social interaction skills as well as improve introversion, shyness, and hyperactivity.
Behavioural therapy is based on the foundations of scientific theories that have proved effective. Psychologists and behavioural therapists conduct case-specific studies to identify before and after stimuli that elicit undesirable behavior from children and thus design a child-friendly behavior modification plan that the specialist shares with the family with the aim of reducing unwanted behaviors.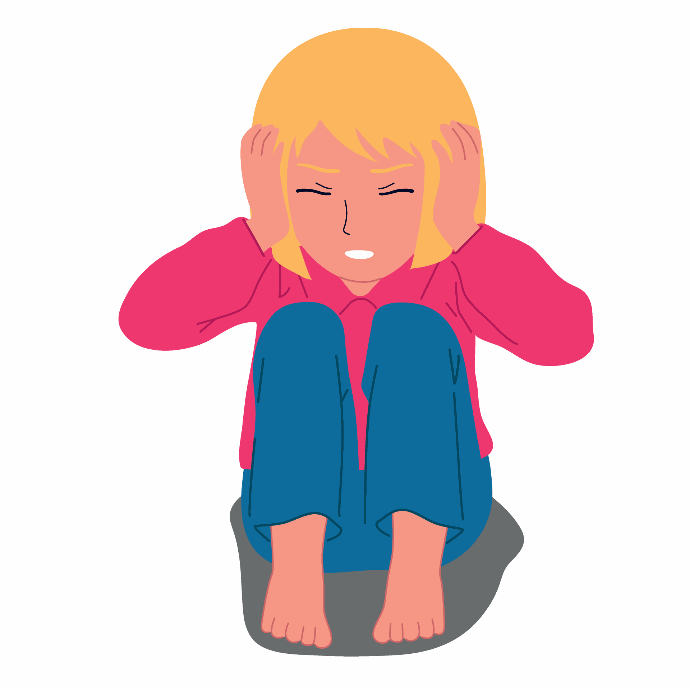 Adequate Sports Activities
The origin of sports for persons with disabilities goes back to the late 19th century when there were clubs in Germany where deaf people were active. These types of appropriate and modified sports for people with disabilities acquired great importance after the First World War. However, sports for persons with disabilities started only after the Second World War.
The sports activities were known as programs of improvisation and prevention. These included sports adjusted to suit the type of disability according to their intensity. The aim of these appropriated sports activities was to develop the physical fitness and mobility of disabled individuals, to help them achieve mental and physical development. They also developed the basic skills to meet the requirements of life, such as walking, running, changing direction, maintaining balance, and developing muscular and neurological compatibility. They developed their sense of place, size, and area in which their body moved. And they created the possibility of movement in the environment surrounding them, increasing their capacity for recreational practice and leisure time.
They also helped acquire cooperative behavior and develop the love of the community, increasing attention, good behavior, and self-confidence. Self-reliance also improved, meaning people had the possibility of living independently and becoming self-reliant.